This week, I had a customer tell me: "Erin, when I showed these quiz questions to upper management, they made some comments about us using words like 'gotta' and 'reckon'..."
Had I made a mistake? Nope.
Was I embarrassed about my skills as a content writer? No way!
I was writing content for coach drivers and truckies. And in my experience, using language like 'What do you suppose?' or 'In this instance, you must then' is way less popular than writing like we're having a yarn at the depot.  
Our content team is all about kicking the yawn-inducing norms of learning content to the kerb, and breathing a bit of life into what's often considered dry or boring: in other words, making learning enjoyable. And a huge factor of whether something's enjoyable or not is it being relatable. Both in the way it looks, and the way it sounds.
So how exactly do we do it?
Well... we've got to keep some of the extra-top-secret-secret-sauce under wraps, but I'm more than happy to share four ways you can make your learning content more relatable, more enjoyable, and fun (yes, fun — I've added some real life proof from Yarno learners, so do read on).
Communicating clear goals for the learner

The first mistake I often see companies make is not thinking about clear goals for a particular piece of learning content, or how staff will actually benefit in their day-to-day after doing the training.
There's usually good intention behind training initiatives, but sometimes we need to take a step back to ask "What are we trying to achieve with this?" or more specifically "Will this help people do their jobs better?"
If the answer to that last one is yes, Advance to Go and collect $200.
If not, it might be worth asking a few more questions:

What do we want people to do differently at work?
Why should they do it differently?
Will this content help them learn how to do things differently?
Once you've figured out the answers to these questions, then we can start writing great learning content. If we launch a bunch of content that's not relevant (or learners don't know why it's relevant) engagement and completion rates will plummet.
Our dedication to being learner-centric in our campaign goals is one reason why Yarno campaign completion rates are over 80% across the board.
Useful, informative explanations

Often with multiple choice questions, you're given a few answer choices and either get no feedback on the correct one (just a final score after the assessment is complete), or perhaps a ✔️ or a ✖️if you're lucky.
And it's like...cool, now what am I supposed to do with that information, or lack of?
In Yarno quizzes, incorrect answers are fundamental to the learning process.
Particularly if there's some contention about the 'most correct' answer choice, and the learner is like "Nah, the one I chose was correct, I'm sure of it!"
Instead of leaving them frustrated and confused, the explanation is the place we can say "Hey, we know people might often do x, but it turns out that the correct/best/most safest thing to do here is y".
We see this often with learners who have been in their industry for 20 or 30 years, and there's the "way things have always been done", which might not be the most correct anymore.
Useful, informative explanations that recognise the plausibility of the incorrect answers and help explain (funny that) why the correct answer is correct, and why the incorrect answers aren't.
"I enjoyed the questions and how if you got it wrong it told you the reason behind the right answer."
This way, learners will respect the content more, and be more likely to participate in the future because they're actually learning something, rather than just ticking a box.
"Being new to the refrigerated transport I really looked forward to the emails each morning and testing my knowledge and if I got an answer wrong, you learn by reading the correct procedures, I believe Yarno has helped me and it is fun."
Language

I know we spoke about language right up at the beginning, but I'll touch on it quickly here too.
Language is the difference between an instruction manual and a good story. Even the most interesting topic can be drone-worthy if the language isn't relatable or enjoyable to read.
At Yarno, we write a lot about conventionally 'dry' topics, like hooking up a trailer or installing a refrigerator properly. One of the ways we manage to make these topics enjoyable is through the language we use. Often casual, sometimes a bit cheeky, and always relatable.
"This is more easier to comprehend and locked in knowledge. Yarno is so much fun and I love it."
"I loved the content. The way the questions were formatted made the learning experience fun and enjoyable."
Of course, it depends on vibe of the customer and the demographic of the learners — but we're certainly not afraid to let our creativity run a little wild, and weave a bit of wit and lightness into what we're creating. And our customers love it too, which is always a plus.
Fun stuff (gifs, memes, movie references)

You know when there's a point you want to get across, but you just can't put your finger on how?
Enter: Gifs. Memes. Cringe-worthy early 2000's sitcom references. Problem solved.
And we don't just add humour to our content to get on the good side of millennial retail workers (that is one of the reasons, but alas), we do it because it works. In Mark's most recent blog post — aptly titled More LOL = More Learn — he mentions some legit studies that have found that when something's more funny (and therefore more relatable) both the learning experience and retention improve.
"It's actually enjoyable, you wake up and wait for the email and you know its gonna be Yarno lol"
An example from a recent campaign: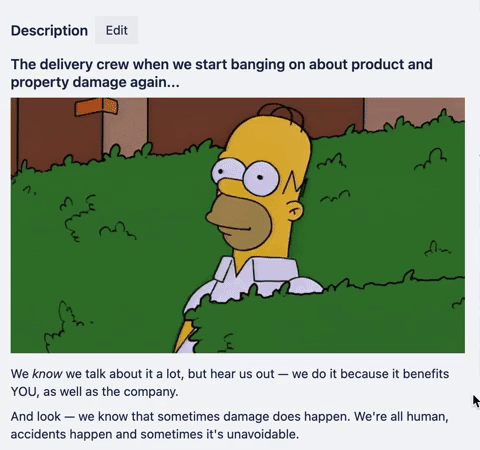 A short snippet of an explanation I wrote recently for a customer campaign — the learners were delivery drivers for household appliances. Note the language (banging on about) and the gif that speaks a thousand words.
With this company, delivery drivers were used to hearing "don't damage the products" and "product damage causes us $X per year", so I thought: why not get real and empathise? This way, the message is still clear, but learners feel like the content really is made for them.
"Was a bit of fun innit. Good to freshen up and learn new things."
Wrap up
If I can have one person take away some tips from this post, it'd make me one happy content writer.  
So to sum it up:
Get your training goals clear, and actually communicate them to the learners
Focus on making the content as helpful as possible
Get real — use the kind of language you hear people using on the job
Don't be afraid to crack a joke or two
For more about how we use humour in learning content, check out Mark'snewest blog post. And for the latest in learning news, remote work, customer service and more,sign up for The Yarn— your monthly dose of of Yarno, delivered straight to your inbox.