Today, we're looking at one of Yarno's most essential features: The Learning Library.
What's the Learning Library?
The Learning Library is aptly named, as it is quite literally a place to store learning material. The Learning Library serves two primary purposes:
Referencing
A lot of training material doesn't need to be memorised, it just needs to be easily accessible. The Learning Library is an easily accessible place to store training material that doesn't necessarily need to be committed to memory, but learners do need to be able to access it. Think of it as a company-specific google search. Can't remember a specific sales process? The exact specifications of a specific sneaker? It's in the Learning Library, just a search away.
2. Resources and revision
At Yarno, we generally send you in cold, and ask you a question before you've been taught the answer to it. We do this because, while it may seem counterintuitive, learning this way stimulates critical thinking and leads to long lasting benefits. However, for more complicated stuff, learning this way can sometimes feel like you've been sent upstream without a paddle.
Which is where the Learning Library comes in. Some companies like to load training material into the Learning Library, have their learners read it, and then have their learners go through a Yarno Burst which tests how much they've retained from that training material.
Others use the Learning Library to complement traditional Yarno Embed campaigns. Using it this way means that throughout a campaign, whenever learners reach a topic they'd like to know more about, they can find that information in the Learning Library.
What does the Learning Library look like?
Here's a look at our personal Yarno Learning Library. It's a pretty straight forward design, similar to a Wiki.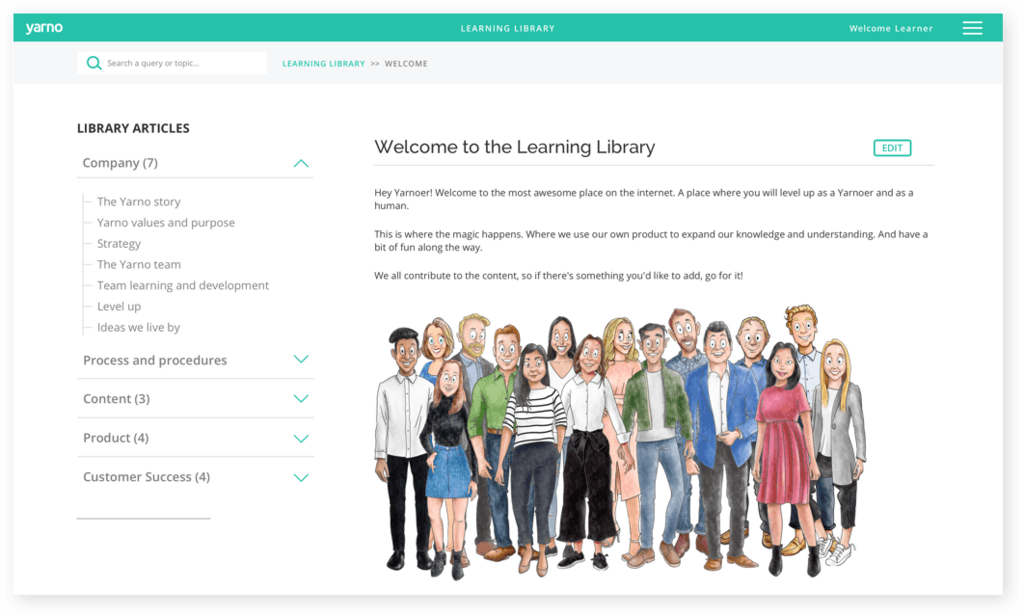 Is the Learning Library just the Yarno-version of an LMS?
No. We've said it once, we've said it a thousand times: Yarno is not an LMS. The Learning Library differs from a traditional LMS because:
Learning Library articles aren't modules that you check off at the end.
The Learning Library (LL) is designed to complement other Yarno features, not replace them. You won't receive extra Yarno points for reading an LL article. The LL rewards curiosity, it doesn't tick a box. Curious about a topic? Head to the LL. Looking to check off that you've read something, so you can get this whole training thing over and done with? The LL isn't for you.
 2. It's incredibly specific.
The LL isn't a place to store everything an employee might need to know during the course of their job, ever. Rather, it's a place to provide tailored content, specific to a company and a topic. You may only need one or two articles in your company's LL. Most learning in Yarno is still designed to be done primarily through quizzing; the LL is the icing, it's not the cake.
What kinds of content belongs in the Learning Library?
Anything you'd like your learners to know more about. At Yarno, we use the LL to document our company processes, values, and learning resources. We have pages about things like how to request and log annual leave, the learning science that underpins Yarno, and how to write effective multiple choice questions.
What kinds of content belongs in the LL library depends entirely on what your company is using it for, what topics your learning is about, and what your learners absolutely need to know about those topics. There's no one-size-fits all! Have fun with it!
How do you add content to the Learning Library?
Any admin of a Yarno account can add content to their account's LL. It's a similar process to adding questions to a Yarno campaign. We've got a full 'how-to' guide available in our support resource hub.
How do I add the Learning Library to our Yarno account?
Speak to your CSM! They'll be happy to guide you through pricing and set-up.
Any other questions?
If you have any more questions about the Learning Library, you can run them by your CSM. If you're not an existing customer, but you're interested in how the Learning Library could benefit you and your company, you can call or email Mark, our Head of Sales, at 0401 872 305 or mark@yarno.com.au.