Upskilling your team to future-proof your business
In Season 4 of the Make it Work podcast, co-hosts, Lachy Gray, MD of Yarno, and Karen Kirton, MD of Amplify HR, talk about upskilling and why they believe it's the key to attracting and retaining great people and thriving in today's workplace. Their purpose is to give you thought-provoking ideas and practical takeaways that you can use to future-proof your organisation.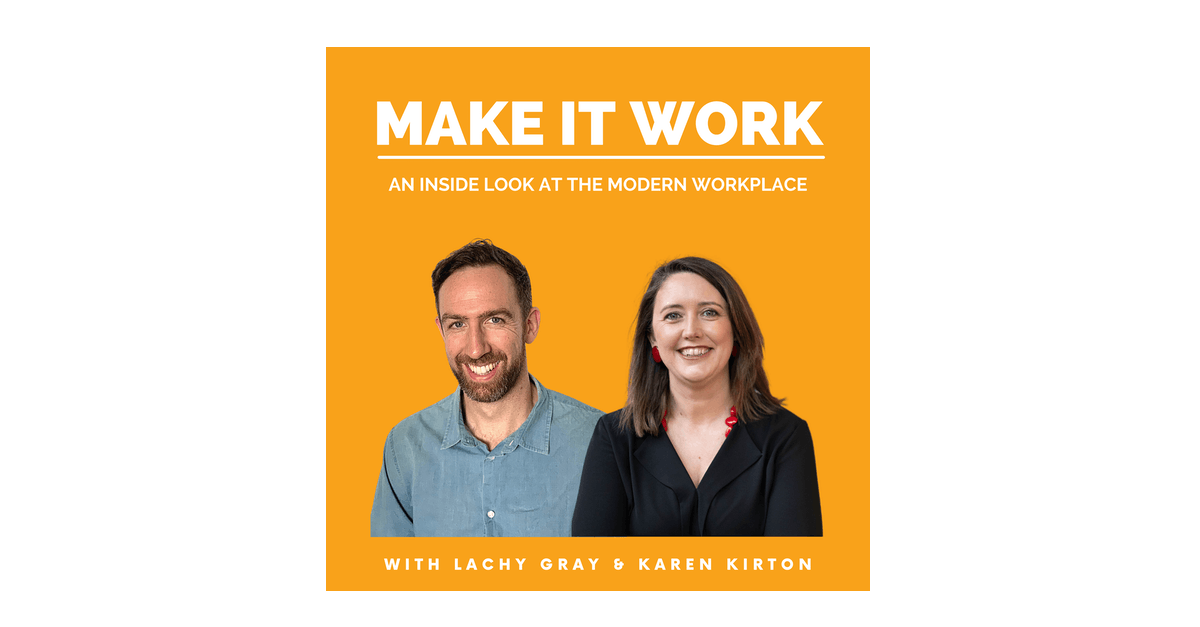 Episode 18: The Power of Skills-Based Hiring and Development
Skills-based hiring and development is reshaping the way organisations attract and retain talent. By embracing skills-based roles, organisations can not only access a broader pool of talent but also foster diversity, reduce unconscious bias, and prioritise employee development and retention.
Episode 17: Prioritising Workplace Mental Health and Burnout Support
In the fast-paced world of modern workplaces, the mental health and well-being of our teams are increasingly important. Today Lachy and Karen delved into the intricacies of workplace mental health, discussing anxiety, stress, and burnout.
Episode 16: Bridging the Gender Pay Gap: Strategies for Small Businesses - Make It Work | Podcast on Spotify
Discover actionable strategies for closing the gender pay gap in small businesses. To tackle this issue, we emphasise the importance of pay equity and transparency, unconscious bias, and adopting structured interviews and involving diverse perspectives in hiring decisions.
Episode 15: How to use a digital tool to support upskilling
Lachy and Karen talk to our very own, Mark Eggers, co-founder and head of sales of Yarno. They discuss how Yarno embeds and reinforces information to support upskilling teams and the challenges around defining learning success.
Episode 14: Creating a culture of kindness
Karen and Lachy revisit one of the most popular episodes from season 3 about what kindness looks like in the workplace (from March 2022). They talk about what behaviors to expect in a kind workplace culture, from open and transparent conversations to empathy, respect, and consideration for others.
Episode 13: Discover the Secrets to Upskilling Remote Teams with Richard Phu
Lachy and Karen chat with Richard Phu, Managing Director of outsourcing virtual assistant company, Outsourcing Angel. Learn how Outsourcing Angel empowers their team members, preventing burnout and fostering growth. Richard shares his invaluable insights on recruitment, communication, and the transformative power of progress over results.
Episode 12: Unlocking Growth: Developing Career Paths in Small Business
Lachy and Karen discuss how smaller businesses can develop their team members and consider career pathways. They highlight the importance of attracting and retaining great employees and the value of having career conversations with employees to understand their motivations and aspirations.
Episode 11: Book club: Machines behaving badly
Recently, Karen and Lachy discovered they are both Lachy and Karen are avid readers and set up their own book club! The first book they selected was Machines Behaving Badly by Toby Walsh, and it is the topic of discussion for this episode. The book is about ethics and mortality in AI, a topical choice given the 'chat' around AI, right now.
Episode 10: Why it is Important to Add Creativity Into Upskilling in the Workplace
Karen and Lachy are joined by Amal Awad, writer, director, performer, and author of a card deck called The Creative's Compass, a navigation tool for creatives. The topic of discussion is the importance of creativity in the workplace and how to develop this skill in ourselves and in our teams. 

Episode 9: Building Upskilling Into Every Day
Lachy and Karen discuss the importance of building consistent practices for learning and upskilling your teams throughout the year. They also discuss how challenging it is for businesses to prioritise learning when things get busy or revenue is low.
Episode 8: AI in Recruitment - Benefits, Risks, and Ethics
Karen and Lachy explore the pros & cons of AI in recruitment, including the potential to save time for hiring managers, the impact on the candidate experience, and the bias that may lie within  AI-driven hiring decisions.
Episode 7: Revisiting the Workplace Culture Debate: Who's Responsible?
Lachy and Karen revisit an episode from season two of the Make it Work podcast, where they discussed who is responsible for workplace culture. 
This leads them to ask, in this episode, who is responsible for learning culture. Everyone has a role to play in culture, however, someone needs to be accountable.
Episode 6: The Importance of Humanistic Leadership Skills – interview with Linda Murray
Ongoing skills shortages are a hot topic in Australia and businesses need to upskill and grow their teams to meet their own growth plans. 
In this episode, Karen and Lachy are thrilled to be speaking with Executive Coach and Leadership Development Expert, Linda Murray on this topic of building a learning culture. Linda is a regular guest on the Make it Work podcast, having joined them in series 3, episode 18 when they discussed psychological safety.
Episode 5: Moving from Training to Learning
Karen and Lachy discuss why we need to shift the way workplace learning is approached.
In this podcast episode, they discuss the importance of upskilling staff in the workplace and what needs to change in workplace learning to achieve this goal.
Episode 4: Tailoring Workplace Learning – interview with Chris Tan, Winning Academy Learning and Development Manager
Interview with special guest, Winning Academy Learning and Development Manager, Chris Tan.  
Chris has first-hand experience in upskilling and tailoring learning to individual learner needs. He believes that L&D specialists need to educate their leaders about the value add that learning can create and not just run training as a tick box exercise. He shares how he approaches workplace learning for the Winning Academy.
Episode 3: Which Skills Should Businesses Be Focussing On Upskilling Their Teams In?
Lachy and Karen dive into upskilling, what it is, and what particular skills we're referring to. They also chat through the skills that are in demand right now, and the skills that are expected to be in demand this decade.
Episode 1: The Transition From Jobs to Skills is Happening. Are you ready?
In the first episode of Season 4 of the Make it Work podcast, Lachy and Karen are talking about upskilling and why they believe it's the key to attracting and retaining great people and thriving in today's workplace.