Last year, the Yarno team ran a Step-tember walkathon. Yarnoers were divided into teams, and the team with the highest average daily steps won a prize. 
It was an initiative to get us up and about, which was great - I found myself going for morning walks before starting work and feeling much fresher when I sat down at my computer.
But if I'm honest, it wasn't the natural buzz from the walk that got me up every morning for 4 weeks. Having a prize incentive and playing against other teams turned the step challenge into a game, and if I fell short on my steps, we weren't winning that prize.
Being able to see where everyone was on the leaderboard, and seeing how many more steps I needed to do for the day to climb the ranks was an unbelievably strong motivator for getting up an hour earlier each morning to march around my local suburbs before I'd even had coffee.
Healthy competition is the cornerstone of increasing performance. Trust me, I have science to back me up.
One study found that across 82 runners in 112 races, the presence of a rival increased a runner's speed by nearly 5 seconds per km. Each runner encourages the other to run faster - the incentive of beating somebody is much higher than the incentive purely of running fast.
And the best part? Both runners in this scenario increased their run time. It wasn't a win-lose scenario. The introduction of competition increased the performance of both runners.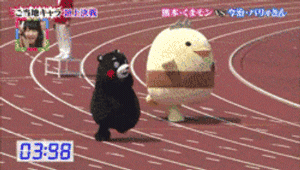 Running isn't inherently a game - but once you add another runner to race against, it becomes one.
So why can't that same idea be applied to workplace training?
Gamification is a key principle for driving learner engagement and participation rates within Yarno.
What is gamification, you may ask? Essentially, gamification is the application of game mechanics to a non-game environment. Things like introducing scores, challenges and rewards where there wouldn't normally be such incentives.
Gamification in workplace training is booming - and there's a pretty good reason for it. 83% of employees who receive gamified training feel more motivated to perform at work. 
When participating in a Yarno microlearning campaign, learners are competing against their colleagues, with the option of doing so both individually and as a team. Yarno rewards consistency and correct answers, meaning that in order to climb the ranks of the leaderboard, learners have to log in daily, and answer more questions correctly.
By scoring learners, they are more motivated to engage with their learning content daily, and ensure they are locking away the correct answer for the next time they're asked.
In a campaign, feedback is instant and participation in the campaign is scored in real time, so learners can track their individual progress. Double-edged sword: the learner is able to learn the correct answer to a question immediately which helps their memory lock in the right information, and they can also see how they're placed on the leaderboard for the day.
Results are also visible to managers and learning supervisors, so top performers can be rewarded. They also get the honour of their names being top of the leaderboard for everyone to see, which for me is a prize in and of itself. 
But, the best part is that the gamified elements of workplace training make it more fun. I'm not sure if you've ever read a textbook cover to cover (I have and I don't recommend it), but playing a game against colleagues is a much more exciting way of learning.
Gamification has also been found to aid long-term retention by up to 10 times in comparison to traditional training methods. Do you think I can remember a single sentence of Qualitative Research Methods, the aforementioned textbook I read in its entirety? Absolutely not.
Do I remember the question I answered correctly to beat my housemate in Trivial Pursuit last week? Yes. (Which is the only Canadian city to host a Summer Olympics? It's Montreal, in case you were wondering).
Setting up healthy competition in the workplace is also shown to raise morale, relieve stress and strengthen relationships between co-workers. It fuels teamwork, collaboration, and productivity, while also, y'know, helping people learn new skills.
So next time you're wondering why training seems to be a chore for staff, maybe think about introducing an element of competition to it. It works wonders - trust me!
Oh and just so we're super clear: my team won the walkathon. With an average of over 15K steps per person, per day. (This isn't important to the story, but I'll find any excuse to mention it.)
If you're interested in reading more about gamification and how it can increase business productivity, check out these other articles: