At Yarno, we're learning experts. But what does that actually mean? 
Well, we're obsessed with learning. More specifically, continuous learning and development for ourselves and our customers. We love helping businesses hit their goals - you guessed it - through learning.
So, how do we do this? We create learning campaigns delivered through our multiple-choice quiz app, which are designed to change behaviour.
Let's break it down.

After a customer signs up to Yarno, we work with them to define where they need to target learning to meet their business goals. Then, the content – multiple-choice questions, complete with explanation pages that help learners understand the topic more deeply – is created. 
There's a bit of a magic formula to it, but luckily we have a dedicated Team Content who either produces the content, or supports the customer in writing their own content.
Jack and Jack, our resident content experts, work tirelessly to produce top-quality learning content for our customers, and coach customers to create their own.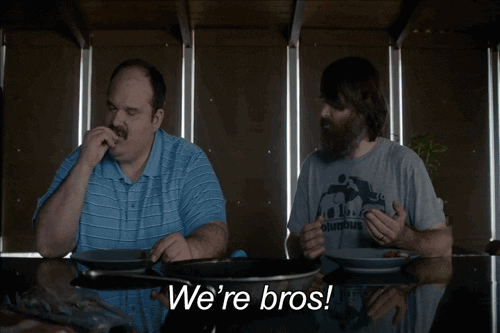 So I decided to sit down with our Content Team, the Jacks, and get into the nitty gritty of their roles. 
Ellie: What does Team Content get up to?
Jack Price (JP): There are two main aspects to our role. The first aspect is writing content alongside a subject matter expert (SME) to flesh out a campaign and produce (multiple choice) questions that are interesting, engaging, and drive behaviour change. The second aspect is supporting customers when they want to produce their own content. 
This could be assistance around best practise for question writing, how to make content scannable so that key concepts jump out to the reader, or trying to identify which behaviours need to change. Every customer has different needs, and different levels of experience writing training content.
Jack Turner (JT): It's really about building out our customer's campaigns and creating engaging content. Whether we're writing it or the customer is, we really try to get them to think about the focus of the learning content, and coax as much information as we can from the SME.
A lot of customers we work with have had previous experience with writing internal learning content, but not necessarily the way Yarno does things. We extract the key principles from the learning content, and craft them into Yarno's question-based format. 
Our content is designed to really make the learner think, so it's not just a matter of eliminating the least obvious answers, and every answer must be considered before responding to a question. We also like to make the content humorous to engage learners.
We find this is the most effective way of making the knowledge stick, and is more likely to encourage behaviour change.
JP: Content isn't necessarily always written either. One part of our role is thinking about the best way to portray information that complements Yarno questions. Sometimes this could be sourcing informational videos or other visual content.
E: What typically happens when a customer first signs up to Yarno?
JP: Every new customer will start with a kick-off session. This is a mind-mapping session where we unpack their organisation's learning needs. What results do they want to see? What behaviour needs to change?
We then look at what knowledge and skills will drive that behaviour change, and how this maps to specific campaign objectives. We also cover things like who the learners are, their digital literacy, and other demographic information that will influence the tone of the content. 
JT: These mind-mapping sessions are really valuable for everyone involved. They help the customer get into the learning mindset and consider their priorities, like which elements we need to train and how this will influence behaviour change.
It's also a great opportunity to get to know the SME. We work closely together to collaborate on content, so we like to get to know each other and how we work, find a shared frequency and unpick their brains a bit to extract some key information.
From there, we have weekly WIP meetings with the SME and their Yarno Customer Support Manager (CSM) to track how content creation is going. This gives everyone visibility over the content, and helps us to see how the content maps against the key concepts we're covering in the campaign.
If the customer is creating their own content, the weekly meetings also allow us to help them if they're stuck and we find this support empowers them to create strong content.
E: That's a side of the role I hadn't actually thought about. How do you go about coaching customers to produce their own content, especially if they're unfamiliar with writing in question format?
JP: We encourage the customer to seek feedback on their content development, especially in the early stages. We create our questions using a Trello board, which the CSM, the customer, and ourselves can all access. On the Trello board, we've created a bunch of resources for the customer to guide them in the right direction - things like our content creation principles, and a quizzing strategy guide. It's about demystifying the process as much as possible.
JT: Yeah, we often have fewer hours to work with them so we have to maximise the time we do have. Giving them parameters to work inside helps to guide them in their content creation. My approach is usually 'this is how I would approach this question, now you try".
JP: Sometimes we write questions alongside customers, so we might write a few, or half, of the questions, then work with the customer to show them our process. This really helps to unveil how we approach writing content.
E: What do you find most challenging about your role?
JP: Sometimes the campaigns we write are really specific to a particular job or process. This means our research capacity is limited, as sometimes this information is only stored on our customer's intranet, which we obviously can't access without some help! Our customers are busy, so it's tricky to ask them questions whenever we run into a wall, so we really have to have our ducks in a row for our weekly WIP meeting if we have any content-specific questions.
JT: Yeah, internal resources are a big thing! It can be hard to flesh out questions and explanations without a solid understanding of how a process works. I find it's really important to have an internal champion in our customers' organisations that can help us with those questions, and make sure our learning content is strong and accurate and engaging!
E: What do you find most interesting about your role?
JP: I'm prone to a Wikipedia rabbit hole, so the variety of different topics I get to write on is interesting to me. I'm collecting random bits of knowledge as I go, and no two customer campaigns are ever the same.
JT: We work with a lot of technical information which I find fascinating, but it's also interesting to look under the hood of different companies in different industries. We also meet with a range of SMEs who cover a range of different topics, and I always learn something new from them. 
E: What do you see as the most rewarding aspect of producing learning content?
JP: I like going through learner feedback on questions and campaigns to see what's working. While we're primarily motivated by our customer's business metrics, seeing how our campaigns are helping the individual learner is very rewarding. Comments like "this campaign has helped me do my job better" and "I feel more confident in my job" show me that our content creation has cut through and made someone's life easier.
JT: I enjoy being able to write creatively and work with a lot of resources. I love writing! I get creative freedom to write and repackage content, and I love the challenge of turning something technical into something engaging.
--
If you want to find out more about Yarno vs customer written content, check out this blog post:
https://www.yarno.com.au/blog/yarno-written-vs-customer-written/