We are delighted to announce that Yarno is a New South Wales State Finalist for Embracing Innovation in the 2022 Telstra Best of Business Awards! With over 24,000 nominations and a rigorous judging process, the Telstra Best of Business Awards are the most prestigious business awards in Australia. We are proud to be selected as a State Finalist for the 'embracing innovation' category, and to demonstrate our passion and commitment to changing behaviour through workplace learning.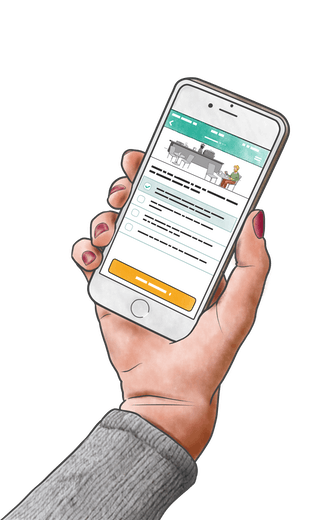 So, how does Yarno embrace innovation in workplace learning?
Good question. Well, we do this with a web app, of course! Yarno is mobile based learning software for the modern worker, we use microlearning and gamification to make the learning stick – in the form of a 3 minute daily quiz. 
As part of the submission process for the embracing innovation category, we needed to demonstrate that our business uses technology to help solve problems at customer, social or environmental levels. We applied because Yarno isn't just a web app – we provide full learning consultancy for our customers by developing content and strategy that encourages meaningful change and embeds quality knowledge. This is where we distinguish ourselves from other eLearning companies. Lots of companies comes from a 'content-first' approach. Training is a box they need to tick. We begin from a 'problem' first standpoint. We don't ask, 'what do you want to train?' we ask, 'what problems are you having?' and then we work with the customer to create a plan for fixing those problems. 
What to know more? Watch our explainer video below.
Innovating learning away from the LMS to microlearning
We believe that we embrace innovation by bringing a fresh perspective to learning on the job, something we all do every day. Since the 1970s learning has been handled by the Learning Management System (LMS). Companies often went a little content-crazy, building up hundreds (if not thousands) of courses in their LMS. It soon became difficult for staff to find what they were looking for; searching through courses to find something relevant was a chore. On top of that the modern time-strapped knowledge worker just doesn't have the time to peruse a thousand course catalogue in the hope they'll find something that's "just right". 
E-learning via an LMS is traditionally delivered as modules that are completed by absorbing some information, then maybe answering some questions at the end of the pdf, digital course, slideshow or video. We flipped that method around with Yarno. Learners are asked questions to help them learn. When you're asked a question, your brain has to search for the answer. Having to recall what you know rather than simply reviewing it strengthens memory, increasing the chances you'll remember it again. 
How do we do it? 
Well, we do this through microlearning. As as the name suggests, microlearning is learning delivered in small doses. It's bite-sized chunks of knowledge, delivered at the most crucial points in the learning process. And, for extra points, content is re-presented for maximum knowledge retention and behaviour change. Yarno uses learning science, gamification, and microlearning principles to help your team learn more, in less time. We extract critical information from stacks of training material and deliver those insights via a daily quiz. Anytime, anywhere. We're changing employee behaviour for the better, three minutes at a time.
Yarno campaigns are the ol' workhorse of the Yarno platform – they're a fun and easy way to embed knowledge and shift behaviour over time. They're time-based, with a fixed schedule of quiz questions that are delivered to learners daily. Campaigns can be used for both introducing new information and reinforcing previously learned knowledge over time. And they're effective, too – because they're built on the foundations of the latest in learning science. This includes: 
Spaced repetition
Research tells us that we learn best when we're repeatedly exposed to knowledge and skills over time. The practice of regularly returning to previously learned concepts creates new learning pathways, strengthening long term memory. 
Active recall
Having to recall what you know rather than simply reviewing it strengthens memory, increasing the chances you'll remember it again. And when you're unable to answer a question, you know you need to revisit the material or relearn it.
Immediate feedback
After a learner answers a question, they receive feedback on their answer choice, and further reinforcement in the explanation screen. Providing immediate feedback has been proven to correct misconceptions and help learners build correct mental models.
Interleaving
Much of our learning is presented to us sequentially. We attempt to master one topic before moving on to the next. This approach is called blocking, and it's very useful for cramming and recalling the next day. Interleaving basically has the opposite effect – it strengthens memory for the long term. Yarno leverages interleaving by presenting questions from various topic areas in random order. Most campaigns have around 10 topics, so in any given day a learner could be answering 3 to 4 questions across 3 to 4 topics. Interleaving is more challenging at first, yet results in superior knowledge retention over time. 
Gamification
Gamification is all about applying mechanics, tools and techniques used in game design (think scenarios, challenges, leaderboards, badges, scoring and rewards) throughout the learning process. This mode of training has the specific ability to improve the speed to retention, engagement, and quality of the learner's experience.
Yarno's scoring and question algorithm
As part of our Telstra Best of Business Awards submission, we also needed to demonstrate that we are a business actively creating or developing technological advancements that will benefit every Australian. Here at Yarno, we have designed a new scoring and question methodology for learning which is a unique element of our platform. We aim to help our customers achieve their business goals, by providing a learning tool that both motivates learners to participate and gives customers the insights they need to plan future training. Our scoring system aims to motivate learners to regularly participate in learning, by awarding points not only for performance but also for participation. We then provide customers with multiple levels of insight into learner performance in Yarno, including overall performance and improvement in performance as questions are repeated. 
How we support customers 
Our drive to innovate is all about ensuring our customers' success. Their success is our success. We want to produce long-term value for our customers. Heck, one of our four values is 'Delight the Customer'. So how do we create value and set our customers up for success with Yarno? We ensure that we understand the need we're solving and how we'll know when we've solved it. Our Customer team work closely with each customer's Subject Matter Experts to define the problem we're solving, and what success looks like. Then they support them to create relevant and engaging microlearning content to be delivered via Yarno.