As a learning company, Yarno is interested in how learning can be leveraged to influence retention and business growth. We see learning as critical to combating skills shortages, keeping staff onboard, and not only meeting, but smashing business goals. In June 2021, the ABS reported that over a quarter (27%) of Australian businesses were having trouble finding qualified staff. Australia's skills shortage is an ongoing problem, exacerbated by the COVID-19 pandemic. So, how do you build upskilling into your team's every day?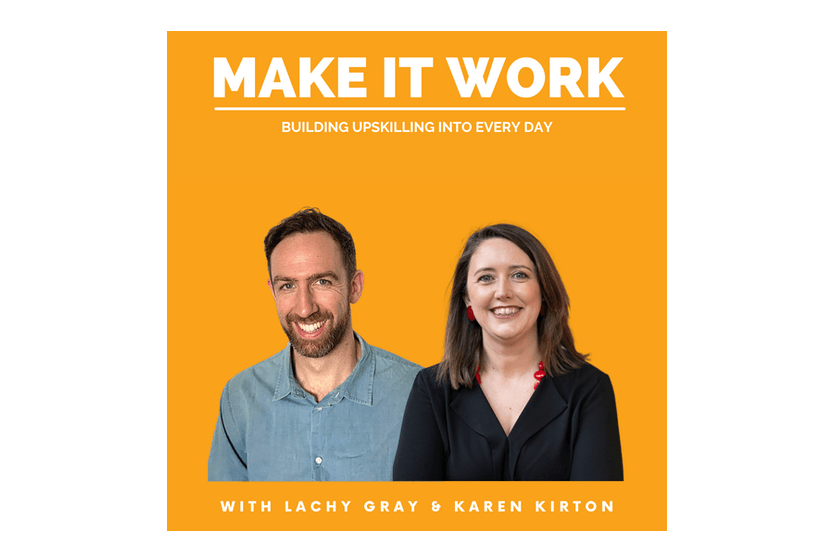 In the latest Make it Work podcast episode, Yarno MD, Lachy Gray, and Amplify HR MD, Karen Kirton, discuss the importance of building consistent practices for learning and upskilling your teams throughout the year. They acknowledge how challenging it is for businesses to prioritise learning when things get busy or revenue is low, yet highlight how vital it is for leaders to prioritise learning when times are tough.
They speak about the value of shifting perspectives on learning and upskilling from formal, structured training that needs significant time investments to consistent, learning practices, every day.
At Yarno, we have found that mapping out our team learning has been the most successful way to make sure it happens! For example, we have a monthly schedule of Yarno campaigns – it might be on health & well-being or a Yarno product skill refresh.
We've also added a team learning slot to the end of our weekly team WIP. Why? It's a meeting we're all at, every week, and the perfect opportunity for knowledge sharing in the form of short presentations, feedback role plays, customer wins, and more.
In the episode, Lachy and Karen share insights and tips on how to build upskilling into your team's every day. You can listen to it, below.
We'd love to hear how you incorporate learning moments into your day.