At Yarno, we don't shy away from delighting the customer. In fact, it's one of our values. And this isn't just limited to our face-to-face interactions.
We've put a lot of thought into how we can help our learners online.
The shift toward digital customer engagement has been happening steadily for years - accelerated by the last few years of you know what. Online customer service includes serving customers digitally, through mediums like email and live chat, but also includes support websites and other materials that help customers find solutions themselves.
According to Microsoft, 54% of all consumers have higher customer service expectations than they did a year ago. And why shouldn't they?! 
Customers reserve the right to high expectations - if they are going to patronise a business, they should expect top quality service and delivery of their goods or services. If they are having trouble with something, they should expect it to be resolved promptly.

At Yarno, we're always looking for new ways to help our customers in the moment they need it.
So, we decided to give our Yarno customer support site a bit of a facelift. We've just finished a design refresh, which we hope will make it easier for our learners and managers to familiarise themselves with the Yarno product, and find answers to their questions.

We took what was (admittedly) a fairly uninspiring page of text-heavy content, and brought it to life with our familiar Yarno illustrations and newly considered UX design. For example, support articles are now grouped into different categories according to the user: general (learners), managers, and admins.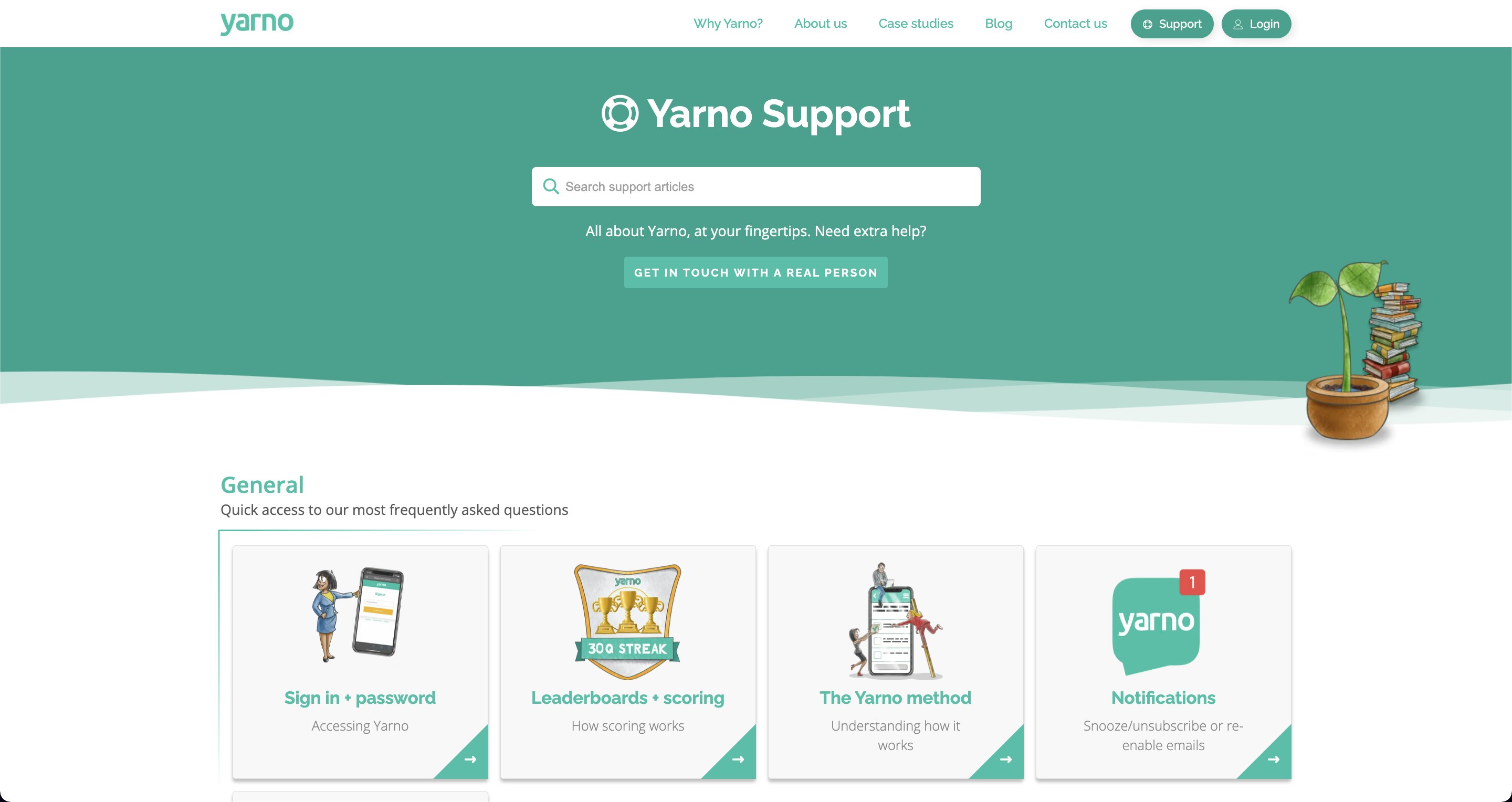 We're excited to show you our new, refreshed support page and want to share our top 3 tips to level up your online customer service experience (that you may not have even thought of!).
Put yourself in the customer's shoes
When putting together a support page, think about the customer experience! Is the website easy to navigate? Will they be able to find an answer to their question easily? 
The whole point of a support page is that customers can answer a question quickly without having to speak to someone.
69% of customers want to resolve as many issues as possible on their own. If a customer is having trouble resetting their password, there should be an easy way to navigate to an article explaining clearly how to do this themselves. 
We believe that having an accessible search function is the easiest way to quickly find relevant information, so make sure the search bar is somewhere easy to spot (ours is front and centre of the support home page)!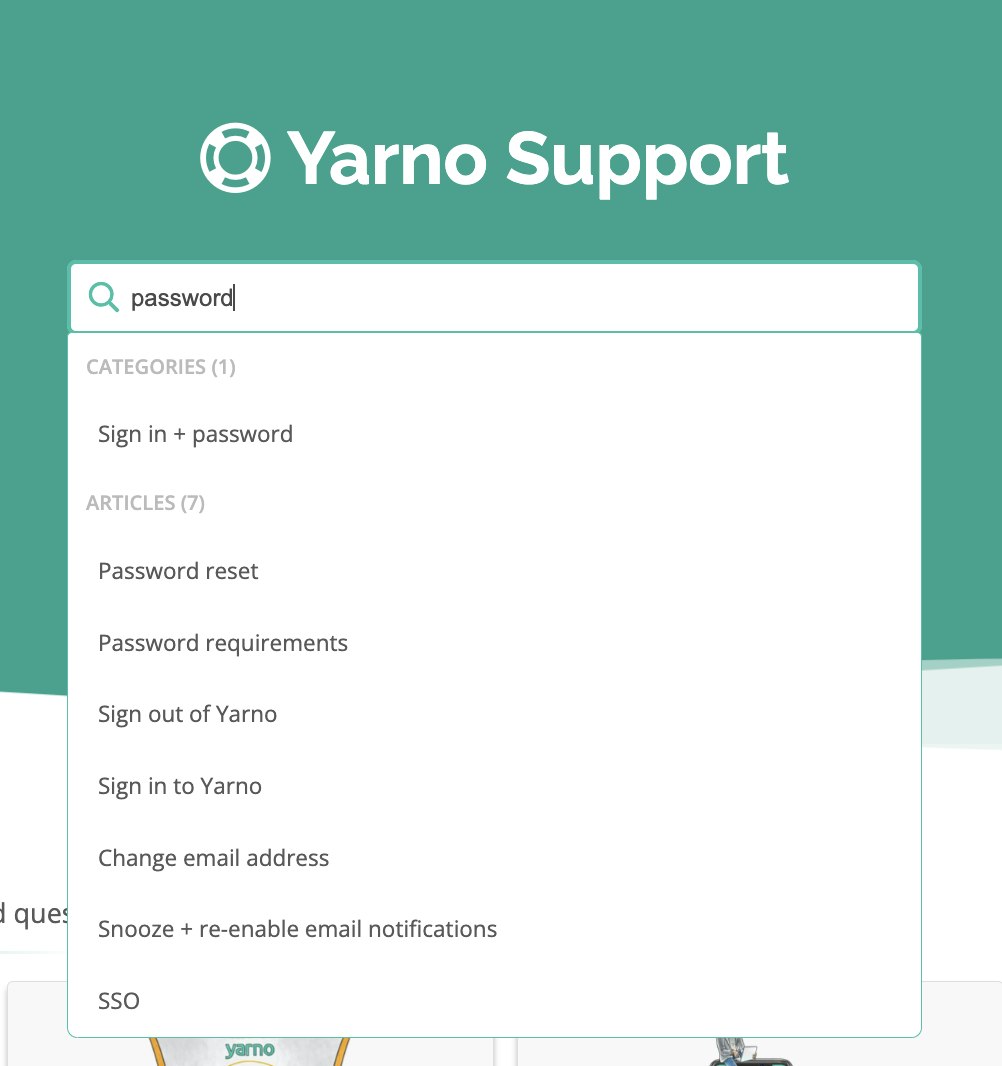 As part of our support page redesign we put some time into thinking how to guide customers through their troubleshooting journey. By organising our articles into subheadings, our aim is to help users find the answer they're looking for quickly and easily. 

Lastly, and this may sound obvious, but it's important to keep your help centre up to date with product information. Think about how frequently you introduce product updates, and make sure those updates are reflected on the support page.
2. Be backed by data
Data is cool. We love data. Especially when it helps us help our customers.
Our new support page is underpinned by data cross-referenced by our support team, our developers, and our previous support page. 
We wanted to make our support page super quick to navigate, so we made sure we knew what the most frequent learner questions were, and that their answers were easy to find.


Reviewing the data, we found the support articles that had 80% of traffic. We knew these ones needed to be at the top, easily accessible.
We also reviewed these articles with our developers, to see which pain points we can address in further product updates. 
If customers are confused about something - it's for good reason. If we get 20 learners a week confused about how to change their profile details, we probably need to make it a bit clearer!
3. Humanise your support
We get it though - sometimes people like getting help from a real person. 
Have you ever had a conversation with a help desk bot (disguised as a human)? It can get pretty frustrating pretty quick, and  you can feel turned off contacting support. 
That's why it's important to humanise your support. Show the customer that, if they can't troubleshoot themselves, there's a friendly person on the other end that can help them out.
At Yarno, the wonderful Adelle is our customer support superstar. She goes to every length to help anyone she can, and has a huge smile on her face the whole time. Adelle just loves helping people - evidenced by the little happy dance she does everytime she helps a learner or manager solve a problem!
So, we let our customers know that! 
Giving a face and a name to the person handling your customer queries makes your support team much more approachable and reliable. You might be familiar with Yarno's custom illustrations - it's a little bit of our personality shining through!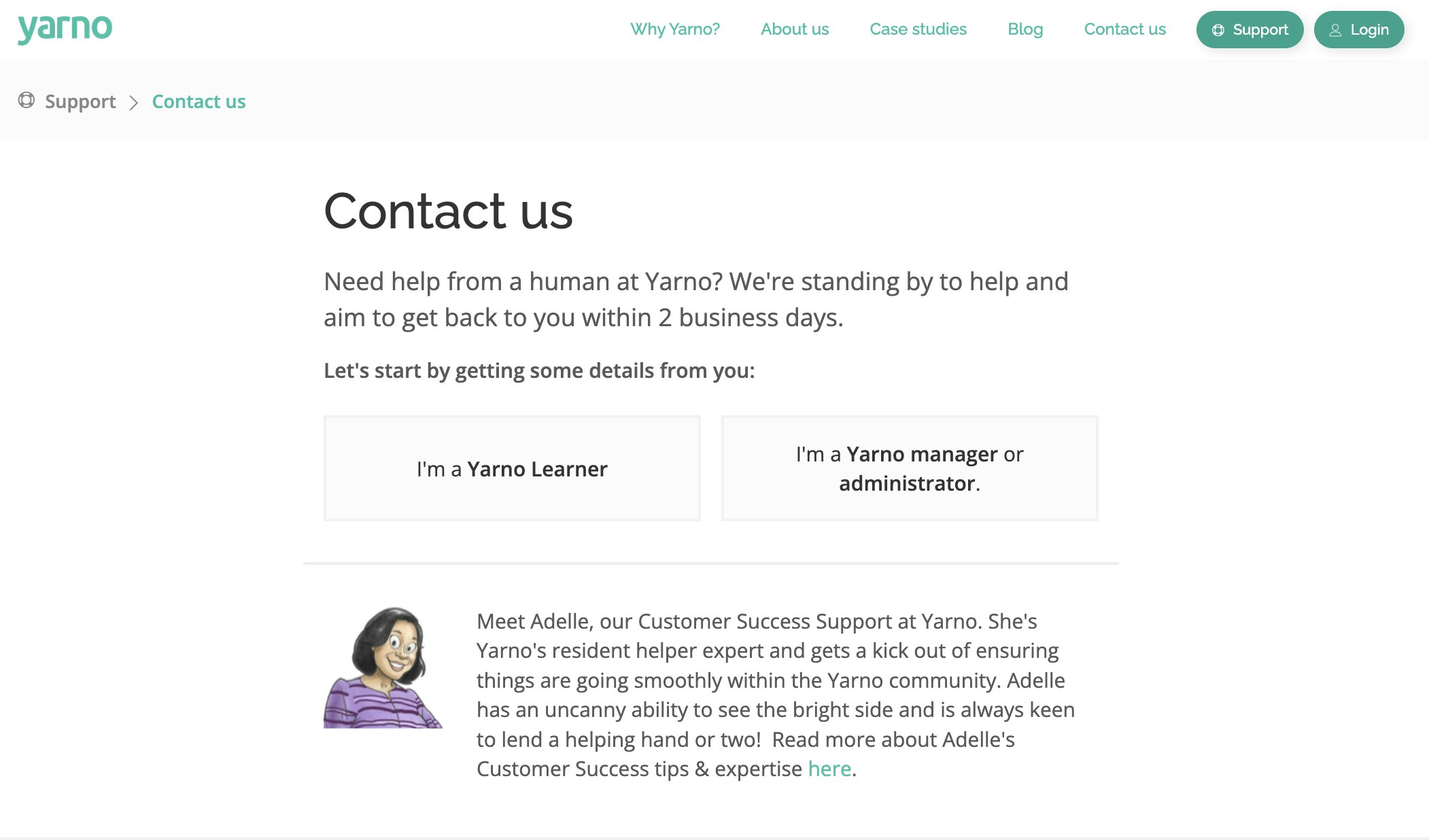 Our new support site can be found here. We're pretty excited about it, and welcome any feedback you might have!